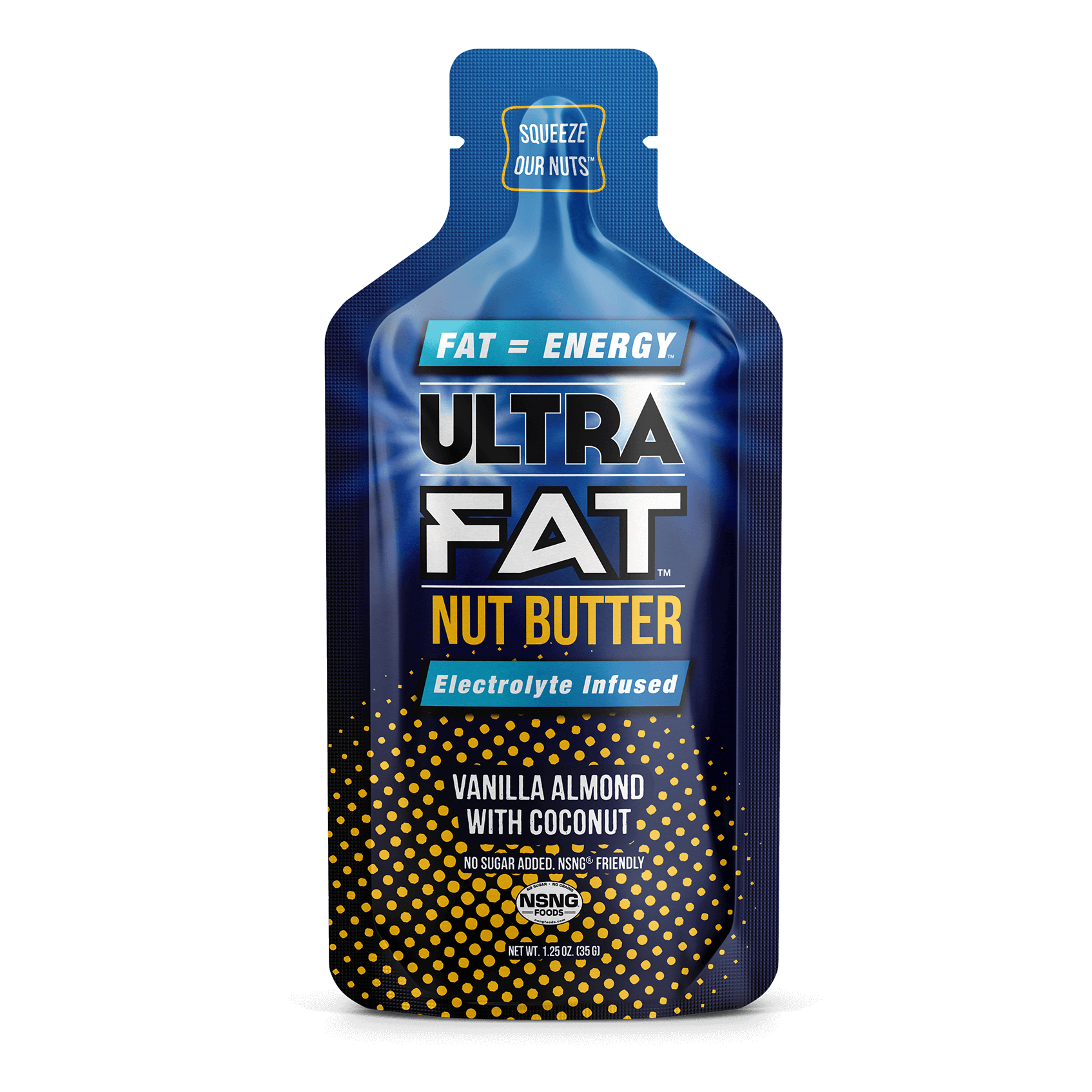 Vanilla Almond With Coconut
$25.99 — available on subscription from
/ week
Natural Energy On The Go
Pack of 10 Single-Serve Pouches
(You can have your Ultra Fat Nut Butter delivered weekly, bi-weekly, or monthly. There is no obligation or long-term commitment, and you can cancel your subscription at any time for any reason.)
Description
INGREDIENTS
Nutrition Facts
Additional information
Description
ULTRA FAT® Nut Butter is made in the USA with all-natural ingredients.
By combining raw almond butter with pure coconut oil and then adding Ultra Salt® Electrolyte Complex from our sister company Pure Vitamin Club®, we've created a natural energy snack that will fuel your workout with healthy fats, protein, and the electrolytes you need to power through the toughest workouts. Whether you're running, cycling, hiking, working outdoors, or just enjoying a day in the sun, ULTRA FAT® will hit the mark.
Oh – and it tastes great! Natural Vanilla rounds out the natural sweetness of the almonds and coconut oil without adding any sugar or artificial sweeteners. In fact, there is only 1 gram of naturally occurring sugar in each 1.25 oz. pouch.
ULTRA FAT® is easy to eat. Just knead the pouch, tear off the tab, and "Squeeze Our Nuts®."
Enjoy ULTRA FAT® with your morning coffee, as a mid-morning snack, on your marathon run, or even as dessert after a good meal.
Almonds
Coconut Oil
Ultra Salt® Electrolyte Complex
Natural Vanilla
Nutrition Facts
Serving Size 1 Packet (1.25 fl oz)
Amount Per Serving
Calories 247
% Daily Value*
Total Fat 25g
38%
Saturated Fat 11g
18%
Trans Fat 0g
Sodium 114mg
5%
Potassium 217mg
4.6%
Calcium 107mg
11%
Magnesium 80mg
20%
Manganese 740mcg
32%
Total Carbohydrate 5g
1%
Dietary Fiber 4g
16%
Sugar (Naturally occurring) 1g
16%
Protein 5g
* Percent Daily Values are based on a 2,000 calorie diet. Your daily values may be higher or lower depending on your calorie needs:
Additional information
| | |
| --- | --- |
| Weight | .94 lbs |
| Dimensions | 6 × 10 × 3 in |